Tag din kajak med over alt og opbevar den hvor du har lyst. En oppustelig kajak er simpelthen en kajak af bløde materialer, som pustes op, inden du går i vandet, og kan foldes sammen og transporteres med hjem i bilens bagagerum efter sejladsen. Dette er helt klart den største fordel ved oppustelige kajakker – at de kræver meget mindre plads.
Oppustelig kajak passer ind over alt
Hvis man bor i lejlighed, langt væk fra hav og åer eller bare har alt for lidt plads i hjemmet til en stor kajak, kan en oppustelig kajak være et rigtig godt alternativ.
Du er ikke afhængig af en stor garage eller en lejet kajakplads nogen steder. Du kan tage din kajak med til selv de mest fjerntliggende farvande og opleve ny natur uden besvær.
Oppustelig kajak test: Hvilke oppustelige kajakker er de bedste?
I takt med at vandsport bliver mere og mere populært herhjemme, stiger udvalget af oppustelige kajakker naturligvis også tilsvarende. Så hvilken skal du vælge? Det forsøger vi på bedste vis at guide dig til herunder, hvor vi gennemgår 9 forskellige oppustelige kajakker der kan købes i Danmark, hvor vi starter med vores top-valg øverst, hvor vi vurderer at du får mest for pengene. Vi runder af med test af 1 oppustelig kajak der kan købes via Amazon i England.
OBS: Bemærk at mange shops melder udsolgt for oppustelige kajakker, grundet stor efterspørgsel. Vi har herunder listet dem der stadig har på lager øverst.
Intex Explorer K2 Kayak (Top valg)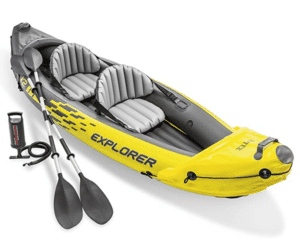 Intex Explorer K2 Kayak er en af bestsellerne, når det kommer til oppustelige kajakker solgt på Amazon og indtil for nyligt (opdateret Maj 2021) var det kun på Amazon at den kunne købes, men nu er det også blevet muligt at købe den fra en dansk shop (se her), hvor prisen også næsten er 1000 kr. billigere end på Amazon.
Det er også en rigtig god kajak, som giver kajakroerne rigtig god komfort takket være de oppustelige sæder med ryglæn. Der er rigtig god plads til at læne sig tilbage, ligesom der også er givet god plads til benene, så de ikke kramper undervejs.
Med til kajakken følger der to årer og en pumpe – så det er ikke noget, du skal ud at finde efterfølgende. Det er en kajak med plads til to mennesker. Med lidt god vilje er der også plads til en mindre rygsæk eller to med oppakning til dagsture eller længere sejladser.
Kajakken koster på Amazon omkring 329 pund, hvilket omregnet svarer til cirka 2.724 kroner afhængigt af dagens kurs. (så der er som nævnt ovenover penge at spare ved at købe den i Danmark)
For disse penge får du en rigtig god og stabil kajak med alt, hvad der skal til for at komme afsted.
Intex K1 oppustelig kajak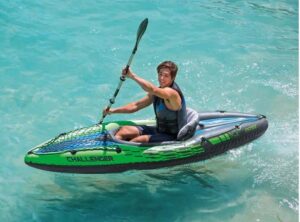 Her er vores bud på den bedste billige oppustelige kajak, hvor du for 999 kr. får en rigtig god kajak til én person.
Den vejer kun lige under 12 kg. i opbevaringstasken og her medfølger følgende: en åre, pumpe, reparationssæt samt en manual.
Derudover score Intex K1 top karakterer når det kommer til anmeldelser, her giver folk der har købt den giver 4.8 / 5 stjerner, læs anmeldelserne her.
Wavez oppustelig kajak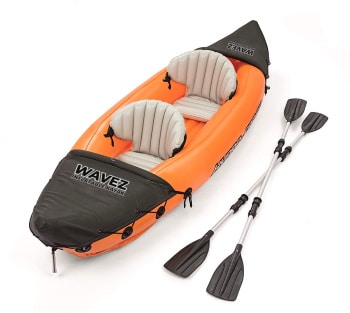 Med Wavez får du en rigtig god kajak der passer perfekt til alle danske forhold.
Med i pakken medfølger alt hvad du skal bruge til at få en god tur for 2 personer. Det er selvføligelg også muligt at benytte kajakken alene.
Her får du god kvalitet i form af PVC plastik, som giver dig en god sikkerhed ude på vandet.
Den vejer kun 14 kg, så du kan nemt have den med rundt.
Aqua Marina Steam 2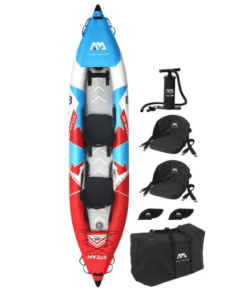 Aqua Marina Steam 2 er en toer-kajak, som er rigtig god i brug til dig, der godt kan lide at padle en tur på vandet alene eller sammen med en god veninde eller et familiemedlem. Men, da den er så gennemtænkt i designet og i så god en kvalitet, kan den også med fordel benyttes af dig, der har lidt mere erfaring, og som efterhånden er blevet tryg ved at sejle i kajak selv.
Den er i et bredt design, hvilket både gør den nem at styre, uanset om man sidder 1 eller 2 mand i den, ligesom den glider fint gennem vandet. Det er så absolut værd at tage med, hvis du planlægger ture i fremtiden af flere timers eller dages varighed – her har designet af båden en del at sige for oplevelsen af det.
Det er en lidt dyrere model, når det kommer til oppustelige kajakker. Men det er der en grund til, da designet ikke kun er gennemtænkt – holdbarheden er også virkelig god, ligesom der følger to finner, en håndpumpe, bæretaske og to sæder med i prisen. Pagajer skal dog købes ved siden af.
Men alt i alt en virkelig fin kajak til dem, der gerne vil lidt mere med kajaksejlads!
Aqua Marina Memba Deluxe (1'er)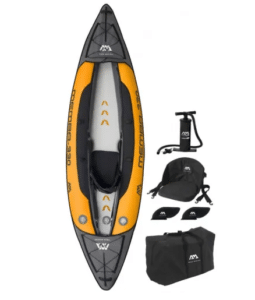 Aqua Marina Memba Deluxe er udviklet til kajakroere med lidt mere erfaring, da prisen er relativ højt, men designet rigtig godt. Med det sagt betyder det naturligvis ikke, at den ikke er god for nybegyndere, som gerne vil gøre mere i kajaksejlads eller som ved, at det er noget, der bliver prioriteret de næste mange år – for så er denne naturligvis også god.
Den er fremstillet som en rekreationskajak og er derfor velegnet til dagsture og ture af flere dages varighed, hvis man har lyst til dette. Stabiliteten er helt fantastisk og gør det nemt for enhver kajakroer at finde balance og glide godt gennem vandet.
Komforten er der ikke en finger at sætte på, da der medfølger justerbare sæder med høj ryg. Flere timers padling er derfor ingen problem. Har du brug for det, kan du også benytte den medfølgende fodstøtte.
På tilbud koster kajakken 3.990 kroner. Det er mange penge, men til gengæld får man en ret slidstærk kajak til mange års brug samt en håndpumpe, transporttaske, sæde, finner og en brugermanual med i købet.
Kan du derfor ikke vente med at komme på eventyr på vandet alene, er denne et godt bud på en oppustelig kajak, der kan indfri det ønske.
My Hood oppustelig kajak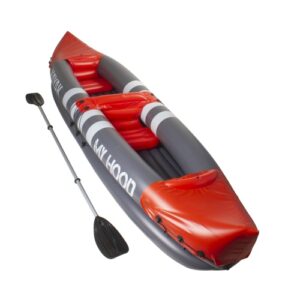 My Hood oppustelig kajak er en god kajak for dig, der gerne vil prøve at kaste dig ud i at sejle i kajak, men ikke er helt sikker på, om det er noget for dig. Den vejer kun 9 kilo, og er derfor ret nem at have med på campingturen, på bilturen eller ferien. Den er beregnet til 2 voksne mennesker af en vægt på maks 160 kilo.
Det er ret komfortabelt at sidde i kajakken, da den har to oppustelige sæder, hvilket gør den oplagt til længere ture for de mere øvede eller for dig, der gerne vil have en god førstegangsoplevelse. Der følger desuden en pagaj, fodpumpe og et reparationssæt med til kajakken.
Med kajakken her behøver du heller ikke være nervøs for, om den holder, da den er lavet i kraftig PVC plast. Det gør den ret holdbar. Derudover har den fem separate luftkamre. Går der derfor hul et sted på kajakken, er det kun fra det specifikke luftkammer, at luften suser ud.
Den koster også kun 799 kroner.
Advanced Elements AdvancedFrame® 1 oppustelig kajak – RØD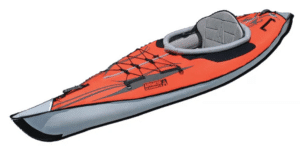 Advanced Elements AdvancedFrame er en lidt mere avanceret oppustelig kajak, da den er en hybrid af en sammenfoldelig kajak og en oppustelig kajak. Det betyder mere specifikt, at den har indbygget aluminiumsstel i bov og agterstern, hvilket får den til at skære sig fint og stabilt gennem vandet på samme måde som en hardshell kajak.
Fordi den er det mere stabil og stærk i konstruktionen, kan den benyttes i alt lige fra søer og bugter til kyster og åbne farvande. Man skal dog stadig være en dygtig kajakroer for at bevæge sig ud på åbent hav. Generelt er kajakken dog rigtig god og giver begyndere såvel som øvede fantastiske ture på vandet uden besvær.
Der er desuden også mulighed for opbevaring flere steder på kajakken, ligesom der kan tilkøbes en backbone for at gøre kajakken mere retningsstabil. Dette er noget, de færreste oppustelige kajakker tilbyder.
Slidstyrken i kajakken er ekstrem høj, da den er fremstillet i 3-lags materiale. Der skal derfor meget til en punktering. Endeligt har den høj støtte samt et justerbart og polstret sæde, der giver komfort selv under flere timers padling.
Advanced Elements AdvancedFrame® Ultralite kajak [kun 8 kg!]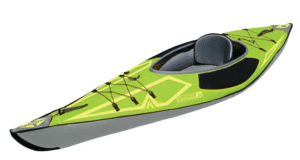 Advanced Elements Ultralite Kajak er en letvægter, når det kommer til oppustelige kajakker. De er normalt forholdsvist lette, men denne er endnu mere let end alle de andre. Med kun 8 kilo er den således nem at have med overalt, hvad enten den står på cykelferie eller camping.
Udover at være meget let i vægt, er den også ultranem at klargøre, da den kun har 2 kamre at pumpe op. Det tager derfor kun et øjeblik at pakke kajakken ud, pumpe den op med luft og sætte den i vandet. Er vægt derfor vigtigt for dig, giver det god mening at købe denne model. Den kan selvfølgelig ikke klare lige så store bølger som storebroren ovenfor – men fornøjelsen af den er lige så stor, da den fortsat kan benyttes til åer, søer og bugter samt kystsejlads på rolige dage.
Denne kajak er ligesom den foregående også en hybrid af en sammenfoldelig kajak og en oppustelig kajak. Derfor har denne model også indbygget aluminiumsstel i bov og agterstern. Den skærer sig derfor fint gennem vandet. Derudover har den et højre og venstre luftkammer samt et skumgulv i stedet for et oppusteligt gulv.
Den kan holde til en vægt på 102 kilo, hvilket også inkluderer oppakning.
Advanced Elements StraitEdge™ oppustelig whitewater kajak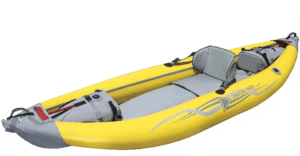 Er du lidt mere til action? Så er StraitEdge den kajak, du skal have. Den er nemlig en whitewater og raftingkajak, som er velegnet både på åbent vand og på brusende floder. Den er cirka 3 meter lang, og er en sit-on-top kajak. For bedre at kunne performe i vandet, er den udstyret med aluminiumsstel i bov og stern.
Den er naturligvis ikke kun begrænset til at kunne bruges i vilde omgivelser. Den kan også sagtens benyttes under almindelige forhold i rolige søer, åer eller på åbent hav. Kan du tilmed godt lide at fiske, kan den benyttes som en fiskekajak takket være de fiskestangsholdere, den er udstyret med som standard.
Med til kajakken følger der en duffel taske, et foldesæde og en brugermanual med. Du skal derfor selv ud og købe en pagaj og en pumpe, hvis ikke du har dette liggende.
Den vejer 15 kilo og kan holde til en vægt på 136 kilo inklusive oppakning. Der er derfor mulighed for at pakke grej til en længere tur, hvis du gerne vil det. Husk dog en vandtæt rygsæk, så dine ting ikke bliver våde undervejs.
Advanced Elements AirFusion™ EVO kajak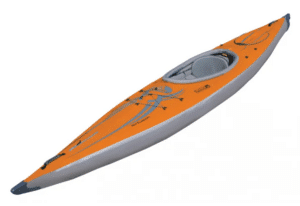 Til dig der er øvet og ofte træner i kajak, er AirFusion EVO lige noget for dig, da den er godt til ekspeditioner, motion og dagsture. Den er designet til at være hurtigere og mere udfordrende end andre kajakker fra samme serie, da den er smallere og lavere til sammenligning. Det betyder, at den kræver mere teknik og erfaring at bruge. Er du til gengæld også en øvet kajakroer, er den ret hurtig og kan i forhold til performance sammenlignes med en hard shell kajak.
Når det kommer til konstruktionen, er den særdeles strømlinet takket være en fusion af aluminumsstivere og trykluftsrør. Hovedkamrene er desuden lavet af drop-stich materiale, som øger stivheden og gør det mere simpelt at klargøre kajakken.
For at det ikke skal være nok, har denne oppustelige kajak også en aluminiumsramme som køl, hvilket giver en V-formet bund, som giver en god tracking ydelse.
Bliver kajakkens dele skadet undervejs på en tur, kan alle dele skiftes ud. Det er der virkelig ikke mange andre oppustelige kajakker, der har mulighed for, hvilket gør den til den ultimative kajak til naturoplevelser fra vandet af længere tids varighed.
Den vejer 14,5 kilo og har en max belastning på 106 kilo inklusive oppakning.
Watery – Global oppustelig kajak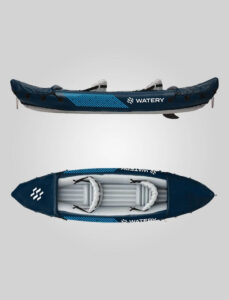 Watery Global Kajak fås til både 2 personer (se her) og 1 person (se her). Det er en slank og strømlinet kajak, som passer til roligt vand. Kajakken er fremstillet af PVC, hvorfor den er utroligt slidstærk. Den gør samtidig brug af drop-stitch teknologi, hvilket gør, at den holder sin form, når den pustes op.
Konstruktionen gør, at den er vanskelig at punktere – den vil eksempelvis ikke tage skade, hvis den kolliderer med en sten eller andre hårde overflader. Skulle uheldet alligevel være ude, medfølger der et reparationskit, som du nemt kan lappe kajakken med.
Du anvender den medfølgende håndpumpe til at oppuste kajakken, og den er klar i løbet af et par minutter. Der medfølger to pagajer på 221 centimeter, hvis du vælger modellen til 2 personer, mens der medfølger én pagaj, hvis du vælger modellen til 1 person. Pagajen kan skilles af og nemt transporteres, når du skal have kajakken med på farten.
Watery Global Kajak er en komfortabel oppustelig kajak, hvor især sæderne er behagelige og nemme at anvende. Det er ligeledes oppustelige, og du kan justere dem, så de passer til din krop. Sæderne er kompakte og har en god rygstøtte, så du kan være på vandet i mange timer, uden du vil opleve ubehag.
Der er to lastrum i begge modeller – ét forrest og ét bagerst. Disse anvendes til opbevaring af dine ting, men har samtidig til formål at sikre opdrift, hvis du skulle kæntre. I kombination med en redningsvest gør det kajakken til et sikkert valg. Alle personer i kajakken bør anvende redningsveste, da det øger sikkerheden og er lovpligtigt.
Køb en oppustelig kajak online fra Amazon
Udover kajakkerne ovenfor, som kan købes via danske forhandlere, er det også muligt at købe oppustelige kajakker online via udenlandske hjemmesider, såsom Amazon. Her kan der være gode chancer for, at du kan få en oppustelig kajak i rigtig god kvalitet til færre penge, end hvad du skulle give hos en dansk forhandler.
Når du køber en kajak på en side som amazon.co.uk, kan du ved at oprette et abonnement på Amazon Prime opnå gratis fragt. Gør du ikke det, kan du forvente en fragtpris på omkring 70 kroner eller mere, afhængigt af hvor meget kajakken fylder. Det er dog ikke meget, hvis du samlet set kan spare flere hundrede kroner på dit køb.
Deres leveringstider er desuden også, hvad der har gjort dem så populære. For typisk vil du modtage varer fra Amazon inden for 2-5 dage. Det er derfor relativt hurtigt! Husk dog altid at tjekke, om den respektive vare også leveres til Danmark – for der er undtagelser.
Hvilke oppustelige kajakker leveres til Danmark fra Amazon.co.uk?
Overvejer du kraftigt at tjekke udvalget af oppustelige kajakker ud på Amazon, kan du med fordel tjekke nedenstående ud, da de både er gode på prisen og leveres til Danmark:
Intex Challenger Kayak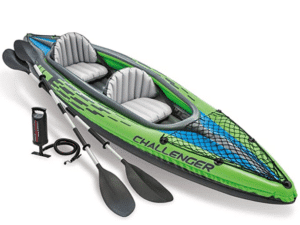 Intex Challenger Kayak er en af de helt populære oppustelige kajakker hos Amazon. Dette er meget forståeligt, da det er en kajak, der er stærk i konstruktionen og luksuriøs, når det kommer til komforten. For ligesom den ovenstående har denne også oppustelige og bløde sæder med ryglæn, som gør det behageligt for enhver at padle i flere timer.
Denne er godt egnet til dagsture eller længere ekspeditioner, da der er plads til opbevaring takket være et fastmonteret net. Det gør det muligt at pakke en lettere rygsæk og et telt, hvis turen skal foregå over flere dage.
Med til kajakken kommer også en pumpe, et reparationssæt og to pagajer i aluminium. Du behøver derfor ikke andet end en redningsvest for at komme i gang med at padle afsted.
Kajakken koster 249 pund, hvilket omregnet svarer til cirka 2.060 kroner. Du kan derfor komme billigt i gang med at padle afsted i de danske søer, åer og farvande i en kajak, der er stabil og holdbar. Den er dog ikke egnet til høj søgang og hårdt vejr.
Der er derfor rigeligt med muligheder for at komme godt i gang med at sejle kajak, uden det skal være besværligt og kræve meget opbevaringsplads derhjemme eller hos nogle andre.
Vælg den rigtige kajak type
Der findes en række forskellige typer af oppustelige kajakker til ethvert formål. Det er vigtigt at vælge den helt rigtige, så du får mest ud af oplevelsen:
"White Water" kajak:
En White Water kajak er til dig, som gerne vil udfordre oprørske floder og vandløb, hvor hurtige manøvrer er altafgørende. Denne type kajak er typisk kort og bred og designet, så den kan vendes med få bevægelser. Til gengæld glider den ikke lige så let igennem vandet som f.eks. turkajakken, men er utrolig hårdfør.
Turkajak:
Som navnet så fint antyder, er de beregnet til længere ture. Turkajakker er lange med masser af opbevaringsplads og kan modstå dårligt vejr og hårde bølger. En turkajak har ofte finne eller ror til at hjælpe med styringen, og den meget aflange form gør, at det er nemt at skabe fremdrift.
Almindelig fritidskajak:
En kajak beregnet til fritids-padlen og hygge er ofte væsentligt billigere end de mere specialisere kajakker. Man skal dog være opmærksom på, at de dermed også kan klare mindre. Hvis du har brug for en kajak til sommerferien og ture på roligt vand og tæt ved kysten, er det den bedste løsning.
En almindelig fritidskajak kan have 1 til 3 sæder, så der er rig mulighed for at tage ungerne med en tur på åen eller ved stranden.
Oppustelig kajak er noget der holder
Når der skal købes kajak for første gang, er mange bekymrede for, om de oppustelige kajakker kan holde til det samme og er lige så nemme at styre som de hårde, traditionelle kajakker. Svaret er helt klart, ja!
Det, der virkelig betyder noget for din kajaks sødygtighed og holdbarhed, er hvad du vil bruge den til, og hvad du er villig til at betale for den. En oppustelig kajak koster typisk en smule mindre end en oppustelig kajak, hvis du skal bruge den til hygge og afslapning. Hvis du derimod skal bruge din nye oppustelige kajak til padling på havet, og du går efter kvalitet, vil den koste lige så meget som en traditionel kajak. Så det er transporten og opbevaringspladsen, der er den største forskel.
En anden fordel er de mange luftrum. En oppustelig kajak har adskillige flere luftrum, der holder den oppe end en traditionel kajak. En typisk havkajak har f.eks. 2 luftrum, og er man så uheldig, at begge rum bliver fyldt op med vand, er der kun en vej, og det er ned.
En oppustelig kajak har derimod så mange rum, at selvom man er uheldig og får vand indenbors, er der altid fyldte luftrum tilbage, som holder kajakken oppe.
Med en oppustelig kajak er du klar på 15 minutter
En kajak fylder kun det der svarer til en mindre kuffert eller stor sportstaske, og de er utroligt lette, så selv en spinkel teenager kan bære den. Når du er nået frem til stedet, hvor du gerne vil sejle, tager det kun 15 minutter at folde kajakken ud og puste den op, og så er du sejlklar.
Oppustelige fiskekajak
Man kan sagtens fiske fra en oppustelig kajak. Den er lavet så stabil at du kan stå op og fluefiske fra den og materialet er så stærkt at du ikke skal være bange for at dine kroge punktere kajakken.
Det bliver lige pludselig også en leg at tage sin båd med derhen hvor man altid gerne lige har ville kunne sejle ud for at kunne kaste til det helt perfekte spot.
Se et godt udvalg at fiskekajaker her.