Vil du gerne prøve noget helt andet end kajak eller have en anden aktivitet ved siden af, er det oplagt at tage et kig på fiskeri fra en flydering. For med en flydering får du stadig fornemmelsen af at være fri, da den gør det muligt for dig at fiske direkte fra vandet i stedet for fra bredden. Ønsker du derfor at prøve et nyt sted for at få bid, kan du ret nemt gøre det med din flydering.
Relateret artikel: Oppustelig kajak
En flydering og en kajak er naturligvis ikke det samme. Flyderingen er mindre og nemmere at håndtere – men den kræver også god balance for ikke at falde i vandet. Det er en sjov aktivitet og giver dig også mulighed for bare at være dig selv i et med naturen.
Husk at have styr på sikkerheden, når du fisker med flydering
Hvis du overvejer at prøve at tage afsted med en flydering i stedet for kajakken, er det også her meget vigtigt, at du er opmærksom på sikkerheden. For der skal ikke meget strøm til, at du stille og roligt flyder med og længere ud, ligesom det også er vigtigt, at du har en redningsvest på, så du kan holdes oven vande, hvis noget skulle ske.
Du kan dog gøre meget ved strømmen ved at have et anker med dig på 10-15 meter. Det er særligt godt, hvis du gerne vil blive samme sted at fiske, når du har spisepause, eller hvis du fisker ved et udløb til havet.
Køb den bedste flydering
Hvis du gerne vil have succes med at fiske fra en flydering, eller belly boat som de også kaldes, bør du købe en i en god kvalitet. Jo bedre en kvalitet, jo større sikkerhed er der også i det for dig.
Du kan med fordel tage et kig på følgende belly boats:
Vores top valg: Savage Gear High Rider 170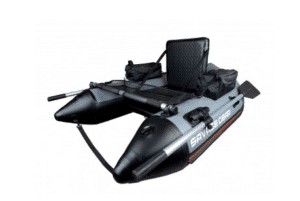 Savage Gear High Rider 170 er en lidt mere avanceret flydering til fiskeri. Ringen er 170 cm lang, hvilket gør den meget søstærk, ligesom den også kan bruges uden svømmefødder, da der er en letvægtsåre på den. Der er desuden 2 aftagelige lommer til opbevaring af grej, ligesom der er 2 stangholdere. Bag sædet på flyderingen er der et aftageligt net til yderligere opbevaring. Den koster 3.445 kroner.
Flydering Outcast Fishcat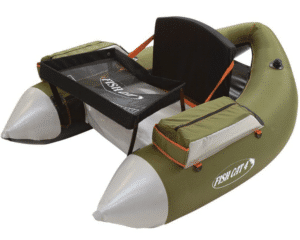 Flydering Outcast Fishcat er en flydering med åben front, så den er let at komme i. Den har et sæde fremstillet af skum, så man sidder godt i flere timer ad gangen. Den har også to adskilte flydeelementer i skum, ligesom der er monteret en stor cargolomme på hver side med plads til grej. Den er nem at komme ud af igen og flyder som en drøm. Den koster 1.999 kroner.
Brug svømmefødder til flydering
Svømmefødder til flydering er ikke kun rart at have, hvis du ser, du flyder for meget med strømmen. De hjælper dig også til bedre fangstmuligheder, da du med svømmefødderne hurtigt kan komme ind til land, hvis du ser aktivitet.
Nogle gode svømmefødder til flydering er:
Keeper Turbo finner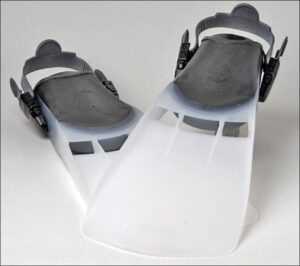 Keeper Turbo finner giver dig rigtig god fremdrift, når du gerne vil flytte dig hurtigt fra ét sted til et andet. Brug dem med kajaksko eller neoprensokker fra waders, da der ikke er plads til en vadestøvle. De koster kun 399 kroner.
Flydering er godt til fluefiskeri
Vil du gerne gøre mere ud af fluefiskeriet og gøre det på steder, hvor det ikke er tilstrækkeligt med waders, er det oplagt at investere i en god flydering. En kajak kan naturligvis også benyttes til det, men den er sværere at holde stille, ligesom du heller ikke har helt det samme overblik fra den.
Som du kan se, findes der flyderinge til fiskeri i forskellige størrelser og former. Vælg gerne en efter dit niveau samt efter, hvor ofte du fisker. For jo bedre den passer til dine behov, jo større chance er der for, at den ikke bare kommer til at ligge og samle støv. Det vil være ærgerligt, når der er så gode muligheder for en fisk eller to på krogen med en flydering.
Holder du øje længe nok, kan du også være heldig at finde en god flydering på tilbud.