Du kan få masser af forskelligt praktisk udstyr til kajakker lige fra transporthjul over drybags, der kan holde tøjet tørt og til børnesæder og forskellige pagajer til kajakken. Altsammen ting du vil få stor glæde af på kajakturen, uanset om den går til havs eller du bare tager en tur ned langs åen.
Kajaklivet er dejligt og frit og med det rigtige kajakudstyr, kan du praktisk talt klare enhver af de udfordringer du og din kajak møder på jeres vej.
Det rigtige udstyr kan samtidig betyde forskellen på succes og fiasko eller sørge for, at du kan slippe gennem de mest strabadserende udfordringer uden at pådrage dig skader eller slide mere i det end højst nødvendigt.
Oversigt over kajakudstyr:
Kajaktransportjhul
Kajakvogne
Drybags
Covers
Spraydeck
Sæde med ryglæn
Kajak børnesæde
Kajak pagaj
Transportér kajakken på land
Lad os bare se det i øjnene. Lige så sublimt og elegant et transportmiddel en kajak er i vandet, lige så klodset og besværlig er den på land. De fleste kajakker er ganske vist ikke tungere, end du kan bære dem selv, men skal de transporteres over længere afstande, begynder det at kræve lidt flere muskler – og baggagen skal tages ud af kajakken, før du begynder at slæbe rundt på den.
Læs også om oppustelig kajak her
Heldigvis kan du købe transporthjul eller kajakvogne, der kan spændes på den ene ende af kajakken. Med hjul i den ene ende virker kajakken lidt ligesom en trillebør. Derved kan du transportere både den og oftest også baggagen på en og samme gang, i stedet for at du først skal lodse baggagen af, bære kajakken hen til der, hvor den skal være og derefter gå tilbage og slæbe baggagen.
Hold tøj og anden baggage tørt med dette kajakudstyr
En anden udfordring ved kajakture er at holde baggagen tør. Ja, selvfølgelig er de fleste kajakker udstyret med et eller flere tørrum i enderne af kajakken, men der er pladsen trang, så der er ikke plads til hverken telt eller andre større ting. De større ting er derfor nødt til at ligge oven på kajakken. Her er der oftest en form for baggagenet, hvor du kan surre baggagen fast.
Men begynder det at regne, padler du lidt for kraftigt til eller – guderne forbyde det – kæntrer du med kajakken, så bliver baggagen oven på kajakken meget hurtigt våd. Derfor er det en rigtig god ide at investere i en eller flere såkaldte drybags, hvor du kan opbevare tøj, telt og andre ting, der er mindre brugbare i våd tilstand end i tør. De fås i flere praktiske størrelser fra 10 til 32 liter og lukkes med en smart lukkestrop, der nok skal holde vandet ude af sækken.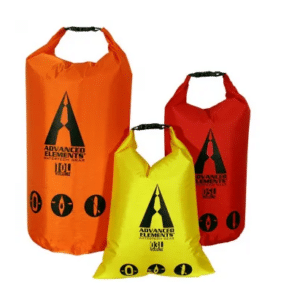 Drybags er nemme at surre fast med baggagenettet oven på kajakken og du kan nemmere holde balancen, da baggagen ikke så nemt forskubber sig eller ligger skævt. Så investerer du i sådan et par drybags, holder du ikke alene din baggage tør, du får også en meget mere stabil og sikker kajaksejlads.
Kajakudstyr til at holde dig selv tør på turen
Du skal naturligvis helst også holde dig selv tør og holde vandet ude af kajakken. En af de bedste måder at sikre sig det på, er ved at købe et såkaldt cockpit cover og et spraydeck, der passer til den kajak, du sejler i. Cockpit coveret er praktisk til at holde kajakken tør, når du ikke selv sidder i den.
Det klipses på kanten af cockpittet hele vejen rundt som en slags låg. Med coveret på kan der ikke komme vand ned i kajakken. Sådan et cover er derfor et must, når kajakken skal transporteres og når I lægger til for natten. Der er ikke noget mere surt end at starte dagen med at skulle tømme kajakken for regnvand efter nattens skylle – især ikke hvis sædet er blevet godt gennemblødt. 
Et spraydeck bruges til at holde vandstænk og -sprøjt ude af kajakken, når du sejler i den. Tag det på ved at trække det ned over kroppen og klips det derefter på cockpittet rundt i kanten. Så kan du sidde tørt og godt nede i kajakken, også selv om det skulle begynde at regne.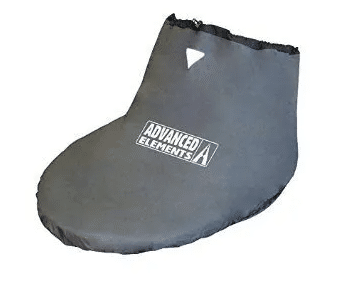 Sid bedre i kajakken med dette kajakudstyr
Synes du, at sædet i din kajak er lige hårdt nok for numsen, kan du selvfølgelig købe et andet. Der findes mange forskellige at vælge imellem – både med og uden ryglæn. Hvilket der passer til dig, afhænger helt af, hvor luksuriøst du vil have det. Har du f.eks. en sit on top kajak, vil der oftest ikke være meget sædet at sidde på. Er du mere komfortabelt anlagt, kan du med fordel købe et ordentlig og komfortabelt sæde med ryglæn og det hele til at forsøde turen med.
Kajakudstyr til når der er børn i kajakken
Skal du have børn med, der er så små, at de ikke kan sejle selv eller være med til at padle og hvis de ikke er større end de kan sidde i cockpittet foran dig, kan du købe et særligt kajak børnesæde, der kan monteres i cockpittet. Det sættes fast ved at skubbe det ind under dit sæde og kræver derfor intet brug af værktøj. Så sidder barnet bedre og meget mere stille. Derved kan I sejle i længere tid, inden der er brug for en pause og du slipper for hele tiden at skulle kæmpe med at holde balancen, hver gang barnet bliver træt af at sidde stille.
En pagaj er ikke bare en pagaj
Pagajer kan fås i mange forskellige udformninger og farver. Hvor farven nok næppe betyder det store, kan udformningen og længden gøre en stor forskel. Hver enkelt roer har sin favorit og det er vigtigt, at du finder den rigtige pagaj til din kajak.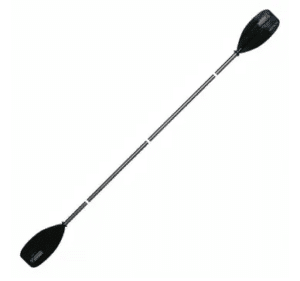 Film din kajaktur
Går – eller rettere sejler – du rundt med en lille naturfotograf i maven eller synes du bare det kunne være sjovt at have en video med hjem fra turen, så er det ingen sag i dag. Et videokamera som GoPro fylder og vejer ingenting og kan fås med masser af praktisk udstyr – herunder et vandtæt kamerahus – der gør dette kamera til det rigtige valg til kajakturen. Så kan vennerne også meget bedre se, hvor sej du er til at ro kajak.