Er der noget, der er rigtig sjovt og som samtidig også giver god motion, så er det en kajak. Det bliver mere og mere populært, hvilket også er ganske forståeligt, da det er en anden måde at opleve naturen på og træne sin krop. Har du ikke prøvet det før, kan du med fordel starte eventyret ud med en god begynderkajak. Så kan du stille og roligt kan lære at padle uden at skulle lægge en formue, inden du ved, om det er noget for dig.
Danmarks åer og søer er perfekte til kajak for begynder
Danmarks natur er velsignet med rigtig mange flotte åsystemer og store søer. Dette er steder, som er oplagte at begynde at lære at sejle i kajak, da vandet som regel er forholdsvist roligt og uden bølger.
Det kræver god balance og gode mavemuskler at holde sig oven vande. Men, når først du har fundet teknikken, vil du helt sikkert synes, at det er sjovere end meget andet at tage din begynderkajak under armen og padle afsted ud i den danske natur.
TIP: Du kan også vælge en guidet tur i København, hvor du ikke behøver at have nogen kajakerfaring – turen arrangeres af Kayak Republic her. Hvis du befinder dig på Fyn eller Jylland er det måske mere oplagt at tage et kig på dette intro til kajakkursus, som er oplagt til begyndere – det arrangeres af Getoutdoor.dk her.
Hvad er en god begynderkajak?
En god begynderkajak kan sagtens være en billig kajak, der er oppustelig. For med sådan en kan du nemt have den med på ferien, campingturen eller bag i bilen, hvis du pludseligt får lyst til en tur på vandet.
Billige kajakker for begyndere er: 
Waves begynder kajak (Top valg)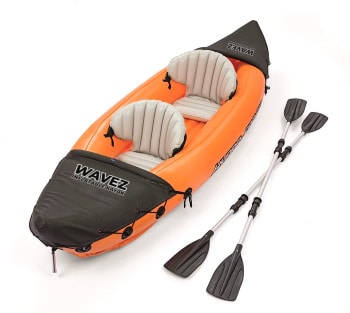 Waves er det bedste bud på en god kvalitets begynder kajak, som passer rigtig godt til alle danske forhold. Her får du en kajak der kun vejer 14 kg og kan bruges af op til 2 personer.
Med i pakken følger alt hvad du skal bruge.
My hood kajak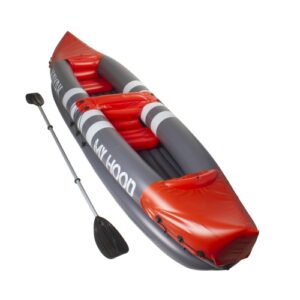 My Hood kajak er en billig kajak for begyndere og kan ret nemt pakkes sammen, så den kan tages med på ferien eller fisketuren. I kajakken er der to oppustelige og komfortable sæder med plads til to voksne. Kajakken er lavet i kraftig PVC plads og er derfor meget holdbar. Med til kajakken følger en pagaj, fodpumpe og udstyr til reparation. Når den er oppustet måler den 325 x 91 x 46 cm. Kajakken koster 799 i vejledende pris.
Sevylor oppustelig kajak Riviera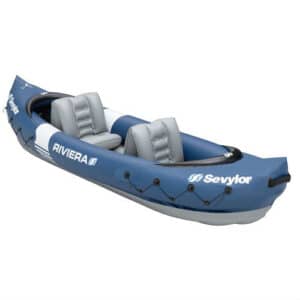 Endnu en god begynderkajak er Sevylor oppustelig kajak Riviera, der er designet som en letvægtskajak. Den er perfekt til nybegynderen og vejer kun 8,8 kilo, når den er pakket sammen. Den er nem at tage med rundt og har plads til 2 voksne, når den er pustet op. Der følger pagaj, manual og reparationssæt med. Den måler 312 x 92 cm og koster 898 kroner i vejledende pris.
Aqua Marina Betta kajak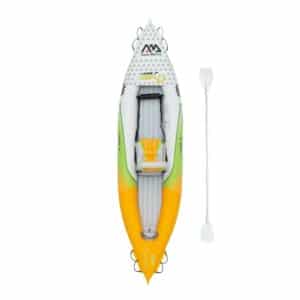 Hvis du gerne vil lære at sejle i kajak, er Aqua Marina Betta kajak et oplagt valg. Den er oppustelig og derfor også nem at have med under armen. Den er designet til begyndere og er udstyret med integreret oppustelig bund, fodstøtte, søde, pagaj, fodpumpe og meget mere. Den er til 1 person og måler 312 x 83 cm. Den koster 1.599 kroner i vejledende pris.
Watery Begynderkajak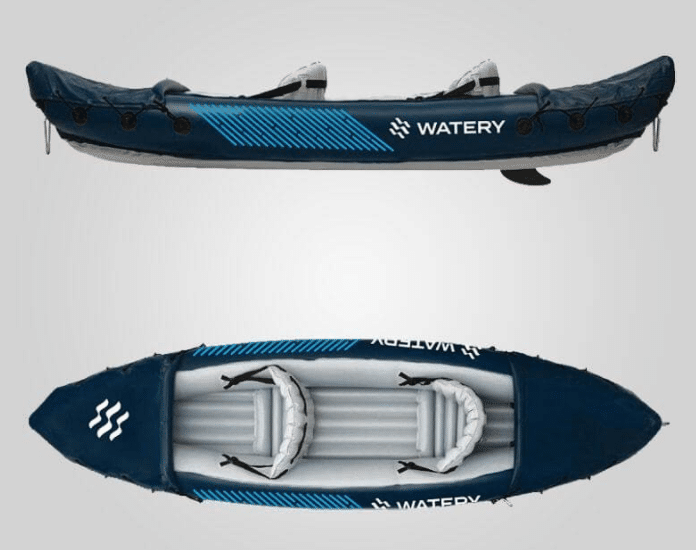 Watery Global Kayak er en oppustelig kajak, som kan bruges alene eller sammen med venner. Den er slank og strømlinet, hvorfor den passer til roligt vand. Den har en kapacitet på 180 kilo, og er fremstillet af PVC, som er et særdeles holdbart materiale.
En oppustelig kajak er et oplagt alternativ til en almindelig kajak – og så egner den sig perfekt til dig, der ønsker at prøve kræfter med at ro kajak. Du kan nemt have kajakken med dig i eksempelvis bilen, da den ikke fylder meget, når den ikke er oppustet.
Denne begynderkajak anvender drop-stitch teknologien, som gør, at den holder sin form. Den er konstrueret således, at den er punktérhæmmende og hård. Du risikerer derfor ikke, at den punkterer, hvis du kolliderer med en sten eller hård overflade.
Global Kayak fylder 312x91x51 centimeter i oppustet tilstand, hvilket giver dig rigeligt med plads – og samtidig holdes kajakken stabil, hvorfor den er særligt egnet som begynderkajak. Der medfølger to pagajer, som kan skilles ad for nem transport.
Der er bærehåndtag ved snude og bagenden samt reb omkring siderne. Hvis du falder i vandet, har du derfor nemt ved at få fat på kajakken, så der ikke er større risiko for ulykker. Du bør dog alligevel altid have en redningsvest på, når du anvender kajakken.
Aqua Marina Steam 2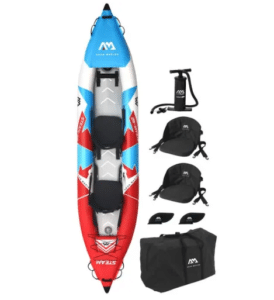 En rigtig god og billig kajak for begyndere er Aqua Marina Steam 2. Det er en toer-kajak, som både kan bruges af dig alene eller til hyggeture sammen med en anden. Den er i god kvalitet og kan holde til mange års brug. Bredden på kajakken får den til at glide fint og balanceret gennem vandet. Der hører blandt andet finner og håndpumpe med. Den måler 412 x 80 cm og koster 3.650 kroner i vejledende pris.
Start stille og roligt ud i din begynderkajak
Når du skal lære at sejle i kajak, er det næsten lidt som at skulle lære at cykle. Det kræver øvelse at blive god til at ligge godt i vandet. Det kan du netop lære med en god og billig begynderkajak. Bliver du god til det, kan du altid opgradere med en rigtig kajak som f.eks en havkajak.