Har du overvejet at gøre mere i at sejle i kajak? Hvorfor så ikke benytte dig af kajakudlejning? At sejle i kajak er en fantastisk måde at røre kroppen på og få noget frisk luft. Faktisk er det lige før, at du ikke opdager, at du dyrker motion, fordi du alt imens kan nyde den friske luft og de skønne omgivelser.
Det at sejle i kajak kræver lidt øvelse, da balance og manøvrering skal være på plads. Men, det lærer du hurtigt, hvis du ender med at blive bidt af at leje en kajak og udforske nye steder i Danmark.
Hvorfor leje en kajak?
Der er mange fantastiske fordele ved at leje en kajak. For det første er en kajak den ultimative frihed, da du bare kan sejle afsted og nyde de smukke omgivelser. Du kan endda smøre en madpakke og tage en termokande med kaffe med, så du kan gøre holdt undervejs og udforske lidt på land.
Hvad der også er meget rart ved at leje en kajak er, at det er meget billigere end at købe en. Ved du endnu ikke, om du kommer afsted mange gange om året, eller om det egentligt er noget for dig, behøver du ikke lægge en stor sum for en ny kajak. Brug derfor kajakudlejning som en måde til at finde ud af, om det alt sammen er noget for dig.
Hvad der heller ikke er helt dårligt ved kajakudlejning er, at du slipper for at pakke og slæbe den. Når du lejer en kajak, står den klar til brug til dig, når du ankommer. Nemmere bliver det ikke at komme i gang med at udforske kajaksejladsens verden.
Hvor i landet kan man leje kajak?
Vandsport og kajaksejlads især er noget, danskerne virkelig har fået øjnene op for de seneste år. Det er en stor fordel for dig, som måske også lige har fået øjnene op for muligheden, da kajakudlejning dukker op flere og flere steder i Danmark.
Vil du derfor gerne se lidt mere af Danmark end din hjemegn, er det oplagt at planlægge udflugter efter, hvor i landet det er muligt at leje en kajak.
Du kan leje en kajak følgende steder:
Kajakudlejning på Sjælland på Lammefjorden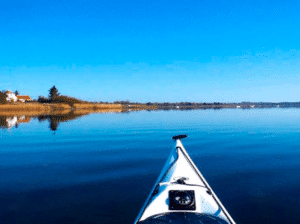 Ikke langt fra København finder du Lammefjorden, som er et fantastisk område for naturelskere. Her kan du leje en kajak og komme med på en kajakoplevelse sammen med en instruktør og guide, der underviser dig i de basale elementer og fortæller dig om Geoparkens natur. Der er også lidt godt i ganen inkluderet i prisen, som består af spiselige urter fra kysten, kage, te og kaffe. Du kan både komme på en morgen- og en aftentur alt afhængigt af, hvad du er til. Turen tager 3 timer og koster 490 kroner.
Kajakudlejning i København midt i byen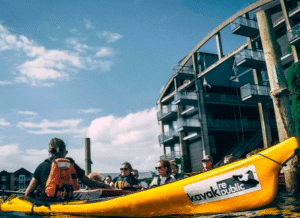 Hvorfor ikke opleve København fra vandet? Med Kayak Republic kan du opleve København fra en kajak. Her padler du gennem det gamle, det nye og det helt særlige ved byen. Det hele foregår i et tempo, hvor alle kan være med. Er du derfor begynder, er det ikke noget problem. To erfarne guider er også med, som undervejs fortæller, hvad det er, man ser og oplever. Turen tager 2 timer og koster 395 kroner – Kayak Republic tilbyder også kajakkursus.
Kajakudlejning i Fredericia på egen hånd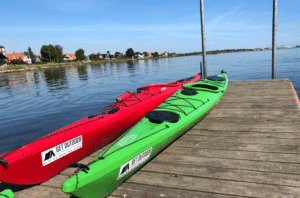 Hos Get Outdoor kan du leje en kajak i Fredericia og selv opleve byen og området. Der er mulighed for at opleve byen gennem kanalerne, ligesom det i godt vejr er oplagt at sejle til Sandal for at få en is. Når du lejer en kajak til at udforske Fredericia og omegn, er der altid en kajakvest og pagaj med i prisen. Hvor mange timer du ønsker at leje den er op til dig. Det koster fra 95,00 – 299,00 kroner per time at leje en kajak.
Kajakudlejning på Bornholm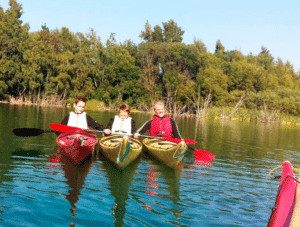 Hos Bornholms Outdoorcenter kan du opleve Bornholm fra en kajak. Det foregår som en introtur med instruktør, som tager dig og deltagerne helt tæt på den Bornholmske natur, der er kendt for sine klipper og blå vandhuller. Det er en tur, der varer tre timer og koster 350 kroner. 
Kajakudlejning og fossiljagt ved Møns Klint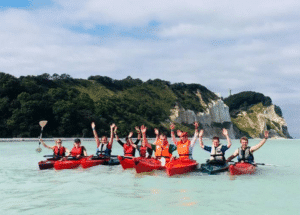 Oplev de kridhvide klinter på Møn fra en kajak med Naturen Kalder. Den guidede tur tager dig langs med Møns kyst og hen til Møns Klint, hvor landskabet ændrer sig drastisk med kridhvide klinter og turkisblå vand. Det er en naturhistorisk oplevelse, som både byder på kajaksejlads og fossiljagt i klinterne. Det er en seks timers kajaktur, som koster 695 kroner.
Aftentur i kajak i København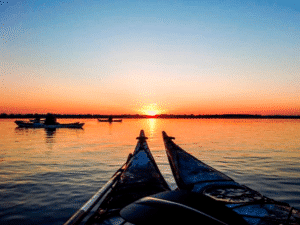 Oplev København i farver med Kayak Republic. Intet er smukkere, end når himlen eksploderer i orange og røde farver. Dette er også et smukt syn i København, som du kan opleve fra vandsiden på en guidet aftentur gennem hovedstadens kanaler. På turen kommer du forbi caféer, barer og andet byliv, som skaber en helt særlig stemning. Undervejs er der en pause med bobler til ganen. Turen varer 2,5 time og koster 465 kroner.
Oplev Danmark fra vandet
Som du kan se, er der mange muligheder for at opleve Danmark og dets mange naturoplevelser fra vandet. Du behøver ikke være dygtig til at sejle i kajak eller at have prøvet det før, da alle guidede ture tager udgangspunkt i, at alle skal kunne være med. Har du derfor lyst til at prøve noget helt andet og opleve Danmark på en ny måde, er det oplagt at leje en kajak og tage på en guidet tur.
Guidede ture er altid en god måde at blive komfortabel med en kajak på, da det foregår i et roligt tempo og sammen med en instruktør, som altid er klar til at hjælpe, hvis noget går galt eller en manøvrering ikke gik, som den skulle.
Læs også: Oppustelig kajak, Havkajak, Sit on top kajak
Det er også lidt mere afslappende, da du ikke skal tænke på at navigere og finde tilbage – det tager instruktøren sig af.
Så kast dig endelig ud i det, da der venter en masse gode oplevelser med en kajak og venter lige rundt om hjørnet.