Få den perfekte naturoplevelse med en fiskekajak. Her i artiklen guider vi dig igennem de forskellige muligheder der er når du skal ud og købe en, der er nemlig en hel del forskellige typer man kan vælge imellem og det vil vi bestræbe os på at give dig et godt overblik over her i artiklen. Vi kommer også ind på hvor du kan finde en ny på tilbud samt, hvor du kan købe den via finansiering også kaldet "afbetaling". Til sidst i artiklen kommer vi ind på hvad du skal være opmærksom på, hvis ud vælger at købe en brugt.
Fiskekajak test: Hvilke fiskekajakker mener jeg er de bedste?
Men lad os først tage et kig på de 3 fiskekajakker som jeg vil anbefale dig at tage et kig på. Du vil se, at det udelukkende er oppustelige fiskekajakker som jeg anbefaler. Jeg startede selv ud med en plastik sit-on-top fiskekajak, men er siden hen selv skiftet over til en oppustelig, da det bare er nemmere at have med at gøre og især, hvis jeg gerne vil ud og prøve at fiske nogle nye steder, så er det rart at den ikke fylder ret meget og ikke vejer alverden.
Watery – Global fiskekajak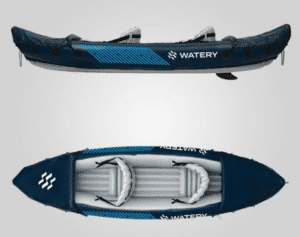 Waterys egen Global Kayak er en oppustelig fiskekajak, som egner sig perfekt til fisketuren. Der er mange fordele ved at vælge en oppustelig kajak, hvis du primært skal bruge den til lystfiskeri – den er nem at pakke sammen og have med på farten, og den kan pustes op på ganske kort tid.
I sammenrullet tilstand er kajakken nem at opbevare, og du kan have den med på farten i den medfølgende opbevarings- og transporttaske. På snuden og ved bagenden er der reb, som gør, at du også nemt kan transportere den i oppustet tilstand.
Det giver en række fordele, hvis du ofte fisker forskellige steder i landet, da du kan have kajakken med i bilen. Det har du ikke mulighed for med en almindelig kajak, hvorfor en oppustelig som denne ofte er at foretrække som fiskekajak.
Kajakken måler 270x91x51 centimeter i oppustet tilstand, hvilket giver god plads til dit fiskegrej. Samtidig har det den fordel, at kajakken er stabil og ligger godt på vandet, når du er ude at fiske. Vær dog opmærksom på, at den primært egner sig til roligt vand.
Denne fiskekajak er utroligt slidstærk, da den er fremstillet af PVC. Herudover er der anvendt drop-stitch teknologi, hvilket gør, at den er holdbar og holder formen, når den er oppustet. Kajakken er punktérhæmmende og hård, så den ikke tager skade, hvis du kollidere med en sten eller anden hård overflade.
Der er to lastrum til opbevaring i kajakken, hvilket giver dig rigeligt plads til dit fiskegrej. Sædet fylder 40×40 centimeter, hvilket giver dig optimal støtte og komfort på længere fisketure. Alt i alt en god fiskekajak, som tilmed fås til en attraktiv pris.
Fordele:
Nem at transportere, når du skal på fisketur
God størrelse sikrer stabilitet
Fremstillet i PVC med drop-stitch teknologi
Punktérhæmmende
To lastrum til opbevaring af fiskegrej
Attraktivt prisniveau
Ulemper:
Egner sig ikke til åbent hav
Intex Explorer K2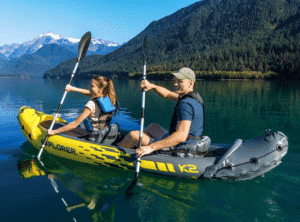 Leder du efter en oppustelig fiskekajak, er Intex Explorer K2 et oplagt valg. Den leveres med en håndpumpe, som gør det muligt at puste kajakken op på omkring 10 minutter – og den er nem at have med på farten, da den ikke fylder meget, når den er foldet sammen.
Intex Explorer K2 glider ikke lige så nemt gennem vandet som kajakker med fast bund, hvilket kan være en ulempe, hvis du planlægger at fiske på åbent hav. Til mere roligt vand er den dog ideel, da den ligger stabilt i vandet og har en høj komfort.
Fiskekajakken fås til et særdeles attraktivt prisniveau – særligt, hvis man sammenligner med fiskekajakker med fast bund. Du sidder behageligt i den, og den justérbare sædeposition fungerer godt, når du befinder dig i samme stilling i længere tid ad gangen.
Der er reb langs siderne og håndtag både for og agter, så du nemt kan få fat i kajakken, hvis du ryger over bord. Når kajakken er oppustet, måler den 312x91x50 centimeter, hvilket giver en god stabilitet i vandet, så du ikke behøver at balancere, mens du holder fiskestangen.
Du finder et lastrum i forreste og bagerste del af cockpittet, hvor der er rigeligt plads til opbevaring af dit fiskegrej. Der er dog ikke nogen holder til din fiskestang, hvorfor du ideelt set bør modificere kajakken med et par stropper, som kan holde stangen, når du padler.
Pakken indeholder én Intex Explorer K2-fiskekajak, 2 årer, håndpumpe, reparationskit, opbevaringstaske og en engelsk manual. Selve kajakken er fremstillet af slidstærkt vinyl, som gør den sikker, selv hvis du kolliderer med en sten eller en hård overflade.
Se video her, hvor den bliver brugt til at fiske fra:
Fordele:
Attraktivt prisniveau
Fremstillet af slidstærk vinyl
To lastrum i cockpittet
God stabilitet på åer og i søer med roligt vand
Justérbare og oppustelige sæder
Oppustet i løbet af 10 minutter
Ulemper:
Egner sig ikke til åbent hav
Ingen fiskestangsholder
Advanced Elements StraitEdge™ Angler PRO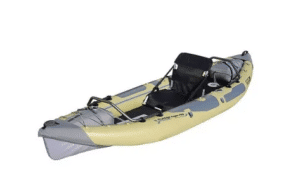 Advanced Elements StraitEdge™ Angler PRO er den ultimative fiskekajak til lystfiskere. Det er ikke en billig begynderkajak, men derimod en professionel kajak, som henvender sig til dig, der har brug for en fiskekajak i absolut højeste kvalitet.
Her er tale om en oppustelig kajak, som befinder sig i en anden klasse end de øvrige på denne liste – både hvad angår pris og kvalitet. Med denne model får en langt mere avanceret kajak, som er særligt egnet til fiskeri.
Der er udstyrsræling i både front og bag, hvor du har mulighed for at opbevare dine fiskestænger. Her kan du også montere GPS, kamera, sonar, kopholder og alt det andet, der hører sig til, når du skal på fisketur.
Kajakken har en drop-stitch bund, som gør bunden helt flad. Det giver dig mulighed for at stå op i kajakken, hvis du har behov for det. Du kan nemt transportere fiskekajakken, når den ikke er oppustet, og den fylder ikke meget, når den opbevares hjemme.
Du kan bruge kajakken de fleste steder, og den egner sig perfekt til alt fra søer, bugter, åer, kanaler, kyster, indre farvande og åbne farvande samt langsomme floder. Kajakken er designet, så den er ekstra bred, hvilket giver optimal plads til dig, der er lystfisker.
Bredden sikrer ekstra stabilitet, så du kan sidde roligt, når du fisker. I kombination med drop-stitch bunden giver dig mulighed for at stå oprejst i kajakken, selvom det normalt ikke er optimalt i en oppustelig kajak.
Advanced Elements StraitEdge™ Angler PRO er fremstillet af multilags-materiale og har luftkamre samt områder med øget styrke, hvilket gør den utroligt slidstærk. Den kan holde til aggressive forhold, uanset om du fisker i søer eller på åbent hav.
Der er elastikker på dækket, så du kan have ekstra bagage med ombord. Herudover har du mulighed for at montere en mindre propel under bunden, som sikrer dig fremdrift, selvom du ikke padler. Alt i alt er dette den ultimative fiskekajak for dig, der ønsker det bedste af det bedste.
Fordele:
Transporttaske medfølger
Drop-stitch bund giver dig mulighed for at stå oprejst i kajakken
Komfortabelt AirFrame PRO-sæde
Masser af plads til både fiskegrej og -stænger
Fremstillet af multilag, som sikrer ultimativ slidstyrke
Mulighed for montering af propel
Den ultimative fiskekajak
Ulemper:
Høj pris
Egner sig ikke til begyndere
Fiskekajak – få noget på krogen
At sejle i kajak er en undervurderet sport i Danmark, som praktiseres i langt højere grad mange andre steder i verden. Det er en nem og fantastisk måde at opleve havet og naturen på – og så er det et genialt redskab til fiskeri. Fisker du fra havet i stedet for fra bredden, er der nemlig langt større chance for at få noget på krogen.
Fiskekajakker kommer i mange typer
Der findes rigtig mange typer af kajakker, og i bund og grund kan langt de fleste bruges til fiskeri. Der er dog nogle væsentlige ting at tage i betragtning:
Kajakken skal kunne rumme både dig, fiskeudstyr og evt. fangst.
Kajakken skal være stabil, så du kan fiske stående.
Kajakken skal være let at manøvre rundt.
Du kan bl.a. vælge imellem en med pedaler, en med elmotor og en oppustelig.
Fiskekajak med pedaler
En fiskekajak med pedaler er en rigtig god løsning, hvis du går op i at fiske. At padle kan skræmme fiskene væk, så når du først er kommet ud til det ønskede område, handler det om at vække så lidt opsigt som muligt. Her er løsningen en model med pedaler, så du roligt kan manøvre båden rundt.
Fiskekajak med elmotor
En fiskekajak med elmotor tillader dig at komme hurtigt omkring. Du er fri for at bruge lang tid på at padle frem og tilbage, især hvis der er ekstra vægt i kajakken i form af fangst. Med en elmotor får du alle fordelene ved at fiske fra kajak, men slipper for det hårde arbejde.
Relateret artikel: ekkolod til kajak
Oppustelig fiskekajak – det lette valg
Har du begrænset plads i eller på bilen – eller skal det bare være ekstra nemt? Så bør du overveje en oppustelig fiskekajak. Kajakkerne laves så stabile, at du sagtens kan stå op og fluefiske fra dem. Og der er ingen grund til panik, hvis krogen rammer båden, da materialet er så stærkt, at det ikke vil punktere. Det tager desuden kun 15 minutter at gøre kajakken klar. Læs også vores artikel om almindelig oppustelig kajak her.
Fiskekajak tilbud
Er du heldig, kan du indimellem finde fiskekajakker på tilbud. En kajak er typisk en lidt dyrere investering, og det skader derfor ikke, hvis du kan spare lidt penge, og dermed købe dig en billig fiskekajak. Når du skal kigge efter kajakker, skal du for det første beslutte dig, hvilken type du ønsker. Det er også værd at overveje, hvilket mærke du ønsker.
De bedste producenter af kajakker er følgende:
Fiskekajak – Rønnest
Fiskekajak – Galaxy
Fiskekajak – Hobie
Køb en brugt fiskekajak
Du kan også overveje at købe en brugt. En kajak er typisk produceret i et slidstærkt materiale, der holder i mange år, og du kan derfor sagtens være heldig at finde en god fiskekajak brugt. Det vigtigste er dog at sikre, at der ikke er revner, der tillader vandet at komme ind. Det anbefales altid at afprøve en brugt kajak på vand, inden du køber den. Der er ikke garantier på køb af brugte varer, og det er ærgerligt at komme hjem med en defekt fiskekajak.