Det er sjovt at sejle i kajak. Men mindre sjovt er det at skulle slæbe den i en dårlig løftestilling ned til vandkanten. Det tager lidt af fornøjelsen, da den jo også skal slæbes op igen. Men, det findes der en ret god løsning på.
En kajakvogn er, som navnet antyder det, en vogn der gør det muligt at trille kajakken ned til vandkanten i stedet for at skulle slæbe den. Det gør ikke kun hele oplevelsen bedre, men skåner også din ryg for skæve stillinger, og er derfor en ideel løsning, hvis du godt kan lide at tage ofte afsted eller ønsker at gøre det mere. Med en kajakvogn er du heller ikke afhængig af hjælp fra en anden eller at skulle gøre holdt undervejs for at komme syren i armene til livs.
Kom hurtigt i vandet med en kajakvogn
Når først turen er planlagt, og du er kommet afsted, er det bare med at komme i vandet – og det kan ikke gå hurtigt nok. Med sådan en kan du komme hurtigere afsted og undgå syre i armene allerede inden, du er begyndt at padle. Det tager ikke mange øjeblikke at samle den, og når først kajakken er monteret, går det så let som en leg at komme ned til bredden, uanset hvilket type underlag, du skal igennem for at komme dertil. Der er derfor kun fordele med en smart, lille kajakvogn.
Mange kajakvogne er desuden designet til at kunne tages med i kajakken, så det også er nemt at slæbe kajakken op på bredden, hvis du gør stop undervejs på din tur.
Hvordan vælger man den rette kajakvogn?
Når du skal købe en kajakvogn, er der flere ting, du bør tænke på. Vigtigst er det naturligvis, at du vælger en model, der passer til både størrelsen og ikke mindst bredden på din kajak. Der er meget stor forskel på dette afhængigt af, hvilken type kajak du har. Derfor passer alle kajakvogne ikke nødvendigvis til din type af kajak.
En god ting at overveje er også, om du ønsker en letvægtsmodel. Det er særligt en god ide, hvis du ofte skal transportere din kajak på længere strækninger, eller hvis du ikke kan parkere tæt på bredden. Skal du ofte igennem sand, er en vogn med store hjul desuden også at foretrække.
Mange kajakvogne i dag fås også i sammenklappelige modeller. Dette er smart og værd at overveje, da den dermed er nem at have med i bilen og heller ikke fylder, når den ikke er i brug – ligesom man kender det fra oppustelige kajakker.
Gode forslag til kajakvogne er:
Kajakvogn – letvægt og sammenklappelig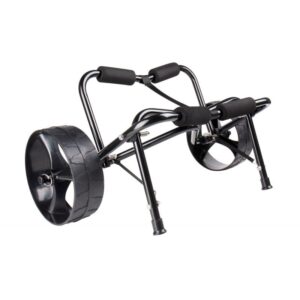 Letvægt og sammenklappelig er et rigtig godt eksempel på en kajakvogn, der er nem at have med sig rundt, og som også gør det let for dig at sætte kajakken i vandet.
Den er udført i kraftig letvægtsaluminium og er stabil at køre med på mange typer af underlag. Den kan desuden foldes sammen, ligesom hjulene kan afmonteres, så den fylder mindst muligt. Den kan holde til en kajak, der maksimalt vejer 90 kilo. Kajakvognen koster kun 493 kroner i vejledende pris.
Advanced Elements kajak transport hjælp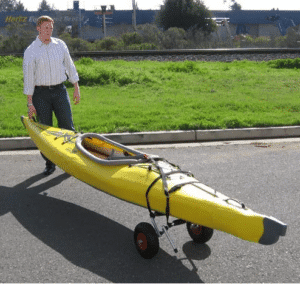 En anden type er Advanced Elements kajak transport hjælp. Modellen her er også meget smart og fremstillet i materialer, der er holdbare.
Den fylder tilmed så lidt, at du med fordel kan have den med dig i kajakken til brug på en længere tur med stop på land flere gange undervejs.
Med til kajakvognen her er der også en støttefod og pads, så kajakken ikke bliver ridset under transport. Hjulene kan ligeledes afmonteres. Kajakvognen kan lastes med 90 kilo og koster kun 700 kroner i vejledende pris.
Du ønskes en god vind ude på vandet.